The treatment of diabetes may involve the injection of insulin(s) and/or GLP-1 agonists. Below you'll find links to PDF instructions for these and other devices, listed according to pharmaceutical company. Effort is made to update materials when injection devices change; however, always refer to each company's main website for the most recent information and educational materials regarding their pens.
See related:
Injection Aids
INSULIN PORT DEVICES
There are currently two different types of injection port devices available in Canada: Medtronic I-Port Advance Injection Port® and Insuflon Catheter®. Indications for use may include fear of pain of injection, allergy to needles and/or limited injection sites due to lypohypertrophy. When instructing patients on either device ensure they have read the user guide with emphasis on the following safety recommendations:
Do not use port if blood sugar is greater than 14 mmol/L and/or ketones are present. Injection port may need to be removed and replaced. (DCC recommendation - not in user manual).
Check blood sugar 1-3 hours after first infusing insulin through port to ensure working properly.
Avoid applying and using new port before betime unless blood sugar can be checked 1-3 hours after.
Inject-Ease is a different product which can assist in syringe injections by hiding the needle of syringe from the user.
Medtronic I-Port

Medtronic iPort Website. Medtronic I-Port Advance Injection Port user guide. General information along with instructional video: https://www.medtronicdiabetes.com/products/i-port-advance
Insuflon through Auto Control Medical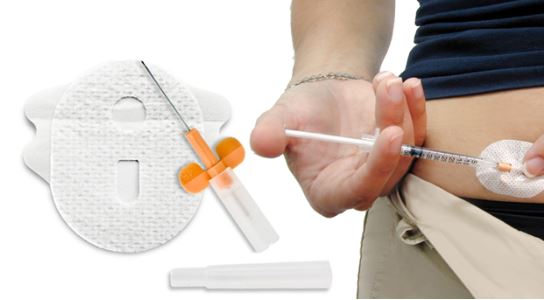 Insuflon product information. Insuflon Catheter user guide General information along with instructional video: http://intrapump.com/product/insuflon/
INSULIN PEN 'SMART' DEVICES
Patients may ask about devices they see advertised in other countries that are not yet available in Canada. We are hearing about insulin pens that can pair with smart phone apps to assist in dose recall and/or bolus calculations. If asked about various medical devices we encourage you to consider the following:
Unless the device and app have Health Canada approval, the patient will likely be unable to load the app on their smart phone.
Caution is noted with using devices from other countries as glucose (and therefore, insulin sensitivity factor) may not be measured in mmol/L as it is in Canada.
Ultimately, caution should be advised for medical devices that do not yet have Health Canada approval for overall quality and safety concerns.
Injection Pens
ASTRA-ZENECA EXENATIDE INJECTION PENS
LILLY INJECTION PENS
Basaglar KwikPen - up to 80 units per injection
Memoir (memory capable) and Savvio Insulin Pens
Trulicity (Dulaglutide) Pens (0.75 and 1.5 mg pens)​
NOVO-NORDISK
See videos for pen instructoins https://novopenguide.ca
NOTE: xTouch Disposable Discontinued in 2023
NovoPen 4
NovoPen Echo: half units and memory function ( NovoPen 5 with memory feature is discontinued)
Ozempic (semaglutide) Pen
Victoza (liraglutide) Pen
​SANOFI