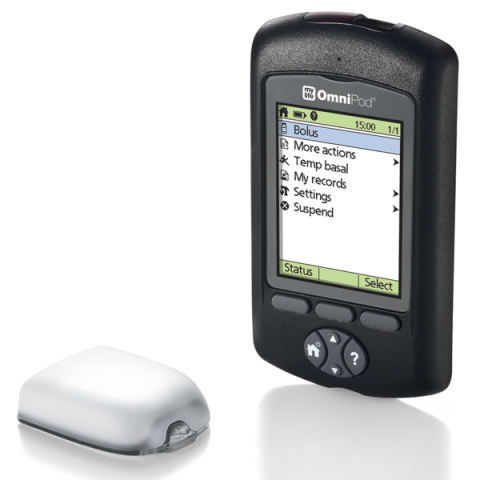 Features
Tubeless pump
Small waterproof pods (3.9 cm x 5.2 cm x 1.45 cm) adhere to skin and communicate

wirelessly

to a Personal Diabetes Manager (

PDM

)
Pods contain insulin and self-inserting angled

cannula

(hands free auto

cannula

insertion)
The

PDM

allows for all insulin delivery programming including bolus calculator, remote

bolusing

, viewing of insulin-on-board, basal rate changes etc.
Uninterrupted basal delivery if

PDM

is misplaced.

FreeStyle

blood glucose (

BG

) meter built into

PDM

Uploadable

to

Diasend
News:
We are unable to post updates on products not yet available in Canada.

Statement from company:

Insulet

Corporation is an innovative medical device company based in Acton, Massachusetts, USA. The

Omnipod

System is a discreet and easy-to-use system that eliminates many of the issues associated with conventional pumps. Improvements include Omnipod's lack of tubing; automated, virtually pain-free insertion; and two straightforward parts that communicate

wirelessly

. By breaking down the barriers to insulin pump therapy,

Insulet

hopes to provide both a superior treatment option and life-long health benefits for people with diabetes. Please visit

www

.

myomnipod

.ca for insulin pump selection in Canada.
Training
Tips:

A battery change in

PDM

should not require a Pod change. If that is happening then likely the

PDM

internal lithium battery is depleted. The patient should call customer support to have

PDM

replaced.
If the pod fails to pair, the

Omnipod

syringe may be used to attempt to withdraw insulin from the pod prior discarding.
To silence a "screaming" pod that cannot be deactivated from the

PDM

, insert a paperclip into the hole on the back of the pod, on the opposite side of the

cannula

.
Upload to

Diasend

/

Glooko
Refer patients to this helpful handout with step by step instructions for uploading their pump:

Diasend

/

Glooko

upload instructions.
We have a contract in place to allow us to view patient's

Diasend

data, if they give us permission. Inform patents that they are not required to give us permission, and we do not look at their data unless they contact us to do so. If they agree to share their data with us, direct them to 'Account Admin' and input our clinic code: 91-65481.
Company Contacts
Customer care:1.855.POD.INFO (1.855.763.4636)
Vacation loaner requests 1-855-Pod-Info (763-4636)
Jodi

Thorimbert

1-403-594-2194

jthorimbert

@

insulet

.ca Calgary area rep