YpsoPump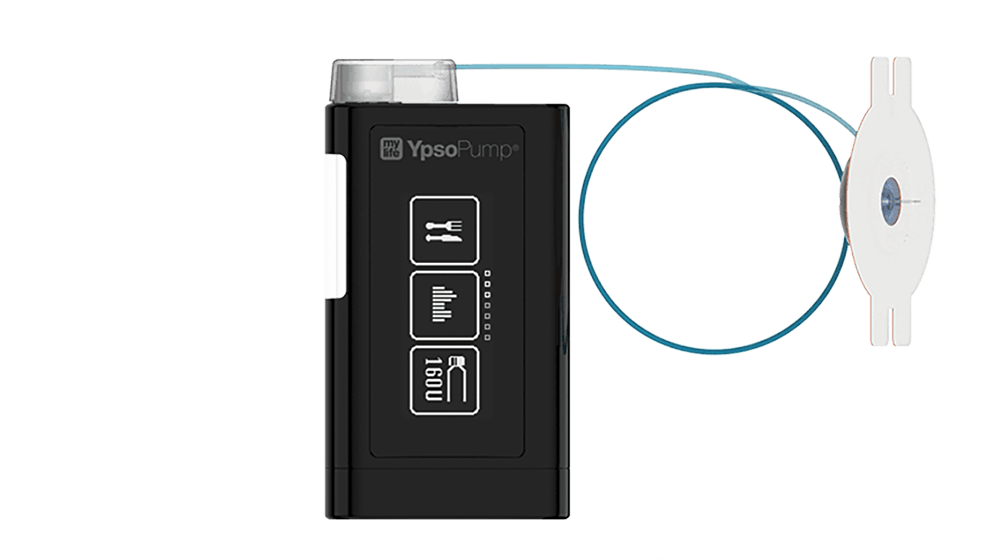 Features
Small: 46mm L x 78mm H x 16mm D

Touch screen icons only. No words. High contrast, easy to read screen
1.6 ml (160 unit) glass reservoirs. In the future, pre-filled reservoirs will be available in Canada. Currently, patients can self-fill reservoirs and leave in the fridge per insulin monograph storage instructions e,g, 1 month
The app will upload to an Ypsomed cloud server. Uploading to Glooko is also planned for the future.
Note: YpsoPump Orbit® infusion sets rotate 360 degrees but are currently only available with 90 degree Teflon or metal cannulas
Note: Advise shutting off screen before putting in pocket
Ypsomed App (Apple, Android)

Bolus calculator and Insulin-on-Board are in the app, not in the pump

App communication is currently 1-way with pump sending data to app. The app doesn't communicate to pump yet. Currently, boluses are calculated on the app and manually inputted into the pump. However, the next version of the pump will permit two-way communication allowing the user to bolus from the app.

The app currently (July, 2019) subtracts all insulin-on-board (IOB) from meal bolus suggestions. These calculations can be viewed and the dose suggestion can be overridden. This will change with a future app update.

The app can be set up in MDI mode to make use of the bolus calculator and IOB (bolus only) for those not on pump.
Future app versions will include viewing Libre and Dexcom readings in the app.
Training
Company Contacts