This page is in development and relevant only to Diabetes Centre Calgary clinicians.
Organizing Tabs
It's easier if all educators use the same tabs, and organize them in a consistent order. The first time that you open a patient chart, customize the tabs as shown, using the wrench icon in the row where the tabs appear. From that point on, each patient chart you open will have the tabs you've chosen. Remove the tabs you don't need and add the ones you do need.
Nurses (Standard tabs for scheduled appointments)

All staff (Standard tabs for unscheduled phone calls or emails)

Episode of Care
It's very important that each encounter in DIP (i.e. each visit, whether virtual or otherwise) is linked to the correct episode of care.
At the first encounter, create an "Episode of Care". Use the "OB Tools" tab > Episodes > New Episode. Name the episode, and select the type: Pregnancy. Accept.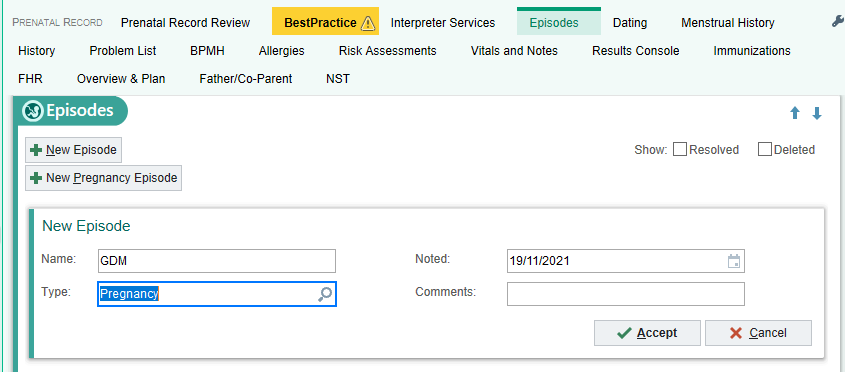 Open the episode, and go to "Associated Problems" (see red section below). Associate the episode of care with the Medical Problem, by checking off the appropriate box to the left of the problem.
At every subsequent encounter, use the "OB Tools" tab > Episodes. Check off the box to the left of the appropriate episode. Select 'Yes' when asked if you want to add related problems.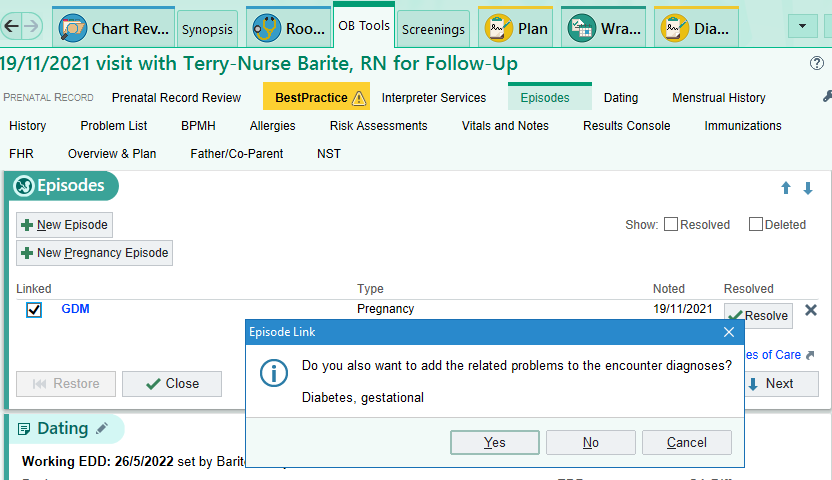 Pregnancy Dating
Document the gestational by going to the "OB Tools" tab > Dating. Users can enter dating information using last menstrual period, estimated date of conception, or ultrasound. Whether you add one dating method, or more than 1, select the dating method to be used by clicking the appropriate radio button in the "Select EDD" column. Click on "Close" to save.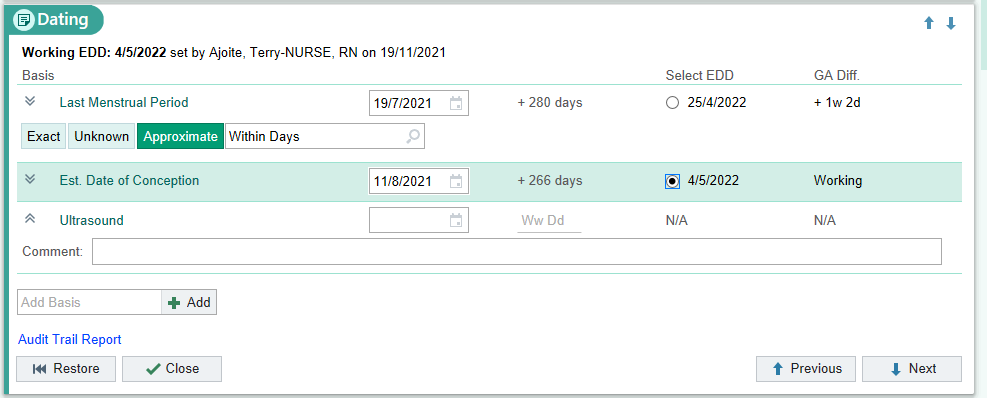 The pregnancy status will now appear on the Storyboard, with due date information available by hovering the mouse. A pregnancy indicator will appear at the top near the patient name, indicating GPA and gestational age.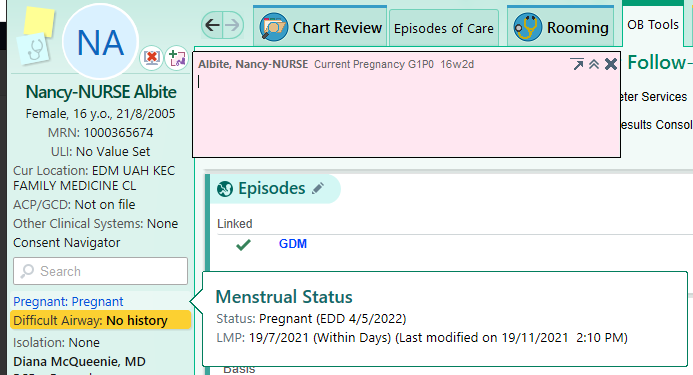 Heading 4
Heading 5